After a little bit of work we are back online, with an early launch to boot.
You will notice a new logo, as well as a new look and feel to the site.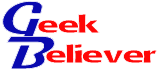 We are using a theme from MyThemeShop, who have some awesome designs, and were a lifesaver when the site went down last week.
In some ways I am glad our site went dow last week, it forced me to rethink they way we are doing things.  This is a new beginning for Geek Believer.  As my seven year old daughter said to me when she heard the site was down, "it's okay daddy, a new Geek Believer for a New Year."
I am a Husband, Father, Tech, and above all else, a Disciple of Christ.