Another piece of art that is found on my cubicle wall came from the Small Press Area.  It is of the characters developed by Fat Rabbit Farm, dressed like the Avengers.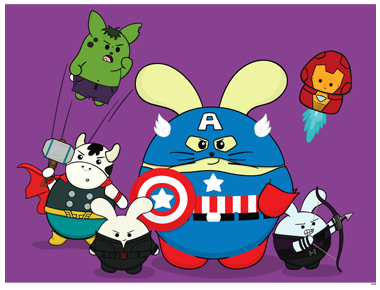 Fat Rabbit Farm was created by Jason Ponggasam and Patty Variboa, inspired by their own real-life two fat bunnies.  They created a magical floating world where some fun and adventurous friends live.  Here is an introduction to the characters from their website.
The best thing I can say about the books is that my kids insist on reading them at least every couple nights.  Fat Rabbit Farms is a cute and fun design team that bring exciting adventures the whole family can enjoy.
I am a Husband, Father, Tech, and above all else, a Disciple of Christ.